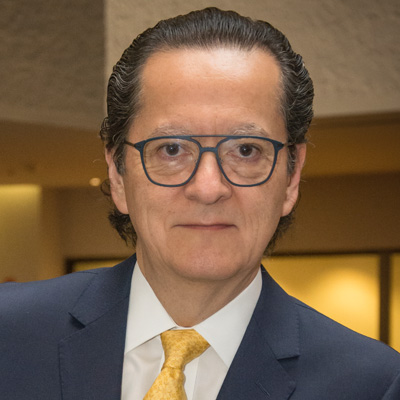 Jorge Apaez -
COO Mexico, Latin America and The Caribbean, IHG
Jorge Apaez is Chief Operating Officer, Mexico, Latin America & The Caribbean at InterContinental Hotels Group (IHG), a global hotel company with a broad portfolio of hotel brands, including Six Senses® Resorts and SPAs, Regent® Hotels and Resorts, InterContinental® Hotels & Resorts, Kimpton® Hotels & Restaurants, Hotel Indigo®, EVEN® Hotels, HUALUXE® Hotels and Resorts, Crowne Plaza® Hotels & Resorts, voco™, Holiday Inn®, Holiday Inn Express®, Holiday Inn Club Vacations, Holiday Inn® Resorts, avid™ hotels, Staybridge Suites® and Candlewood Suites®.
Jorge is a veteran of the hospitality industry and was appointed to the role in June 2014. Based at IHG's regional headquarters in Guadalajara, Jorge oversees operations for more than 241 hotels under nine different brands across 24 countries in the region as well as relationships with the owning companies of IHG's managed and franchised hotels. Through a highly qualified regional team, he manages the delivery of franchise services and maintains proactive owner relations, optimizing the value proposition that IHG provides to franchised and managed hotels within the portfolio.
Jorge joined IHG in 1995 and he has served in different positions in Mexico, Latin America and the USA, including Director of Sales and Marketing, Managing Director and Area President. Prior to his current role, Jorge was the Senior Vice President of Hotel Operations for the Western U.S. and Mexico at IHG, where he oversaw the operations of more than 1,220 hotels. Under Jorge's leadership, IHG became the leading international hotel franchising company in Mexico.
Prior to joining IHG, Jorge worked as a Marketing Director for Howard Johnson's master franchisee in Latin America and as a Director of Sales and Marketing for Radisson Hotels in Mexico. He also worked for POSADAS, Mexico's largest hotel management company, in the areas of Sales, Marketing and Reservations.
Jorge has been awarded with several industry accolades including the Diamond Hospitality Excellence Award presented by Mexican trade publication Alta Hoteleria and the Mexican Hotels & Motels Association.
Jorge graduated with a major in Tourism and a minor in Business Administration from the Mexico IPN and holds an MBA from the IPADE (Advanced Administration Pan American Institute). He was twice elected Chairman of the Mexican Chapter of HSMAI and was named a Certified Hotel Sales Executive by the organization. He was also a participant in the General Electric Corporation Leadership Institute Program.
Jorge is married, and he and his wife Laura have two children, Patricio and Camila.