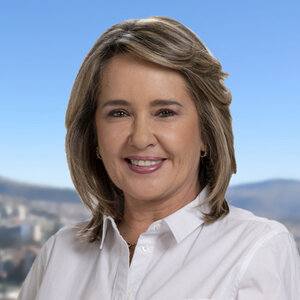 Luz Elena Coloma - Communicator, Degree in Sociology and Political Science
Luz Elena Coloma is serving as member of Quito´s City Council, she chairs the Commission of Historic Areas and integrates the Economic Development and Connectivity Commissions. She had worked in this function for two terms, before.
Since 2010 and during 5 years, Luz Elena Coloma was the general manager of Quito Turismo, a public municipal company. In 2016, she was recognized by the Metropolitan Council of Quito as the most outstanding collaborator of the Municipality for her labor in touristic promotion of the city.
For 20 years, she worked in La Television, TV program, defined as "a window to see the world and a mirror to discover our country" it became the most-watched on national television for the research proposal of local problems and travels around the world.
She has promoted projects that revalue efficient and innovative public service and has joined causes for equal opportunities and gender equality.
She has a degree in Sociology and Political Science (PUCE) and a Master in Decentralization and Local Development (UDLA).